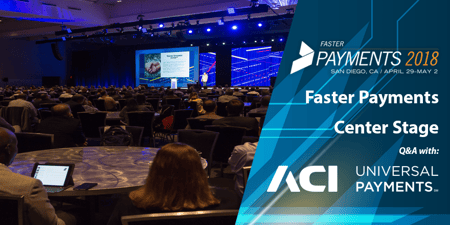 PAYMENTS 2018 in San Diego is just days away and today we're wrapping up our sneak peek at the faster payments solutions of five innovative companies that will present during the Faster Payments Center Stage.
The companies ­­– ACI Universal Payments, FIS, Fiserv, IBM and The Clearing House – will all take to the main stage and each will dazzle the audience with a 12 minute fast-pace pitch about their hot industry advancement.
Make sure you join us on Monday, April 30, at 2:25 p.m. in the San Diego Convention Center. I am moderating this year's Faster Payments Center Stage, so I can guarantee you that you won't want to miss it!
Previously in this space, FIS, IBM and The Clearing House answered a few questions about their solutions. This week ACI Universal Payments takes center stage to discuss their UP Real-Time Payments solution.
---
Your faster payments solution is said to be an innovation that will drive the industry forward. If you had to describe your solution as a car, what car would it be? Why?
The make of the car is almost irrelevant because it's what UP Real-Time Payments solution does that matters most. And in that sense, any type of autonomous vehicle would work. That's because UP Real-Time Payments is incredibly smart, solving new payments world problems that might not have been even thought of yet (much like self-driving cars see what a driver cannot). It's disrupting the market and ushering in a new era of payments innovation through the ability to manage every channel, connect to more endpoints, and respond to future demands using a single source. Additionally, self-driving vehicles eliminate driver error and provide safety and security. UP Real-time Payments delivers the same type of unbeatable security with actionable intelligence gained through machine learning, behavior profiling, and predictive analytics in combination with a team of risk experts focused on local, regional and global fraud prevention.
How does your solution change the face of payments?
UP Real-Time Payments provides unrivaled technology for realizing the full potential of the new, digital payments world, while keeping risk and future cost in check. A single hub addresses the latest in real-time and open banking trends and offers a unified experience across all channels and global borders. With more endpoints than any other, ACI's solution readies banks for any payment, and every possibility, today and into the future.
If you could eavesdrop on what attendees were saying about your session at the conclusion, what would you hope to hear?
"Wow, ACI has innovated solutions to new payments world problems we hadn't even considered yet. I can imagine the ways that UP-Real-Time Payments could reshape our business to align with the needs of the modern, digital landscape, while offering our customers a transformed experience."
Faster payments solutions are the industry's focus today. If you had to take a guess, what do you think is next for the industry?
Open banking will become the next global phenomenon, even though its maturity is already taking flight in parts of the world. It will not only play a role in the imminent ubiquity of faster payments, but as access to payment systems begins to open up, we will see more change across the value chain. Start-ups are playing with concepts that were out of reach as little as 12 months ago. In terms of services that will make it to market and gain traction, we will see new loan-based products that drive consumer spending, including at point-of sale, thanks to the ubiquity of microfinancing.
We will also see even more "neo" and alternative banks that play in the experience of both businesses and consumers. This new banking space will give all customers new hope for new payments, and more options to "build" their own bank thanks to hyper-tailored services that are aggregated under a traditional provider's banner. Oh, and alongside this we will see innovation in tokenization, authentication—all grounded in the new, customer-centric payments world.
Craig Ramsey, head of Real Time Payments, will represent ACI Worldwide during the Faster Payments Center Stage on Monday, April 30.
---
Don't forget to vote now for the winner of the NACHA Excellence in Payments Award! And join me in the Newsmakers Event Center on Monday, April 30, at 5:45 p.m. during the Beach Reception in the Exhibit Hall for a Q&A with the NACHA Payments Awards Finalists.
The winners will be unveiled on Tuesday, May 1, at the 2018 NACHA Payments Award Luncheon, sponsored by TD Bank, and featuring Amy Trask as the keynote.
Time is running out. If you haven't yet, register today and meet me in San Diego!
Simon Hobbs is an award-winning, British-born journalist best known for working for CNBC Business Television for 18 years, first in London then at the New York Stock Exchange.