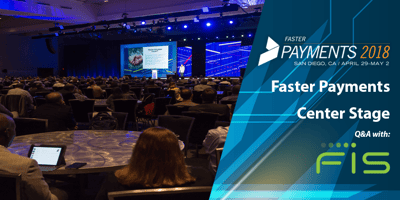 I attended PAYMENTS for the first time last year in Austin, Texas, and I am absolutely excited about returning to PAYMENTS 2018 in San Diego. This year I am again moderating the Faster Payments Center Stage.
Unveiled last year, the Faster Payments Center Stage is a showcase that features fast, high-energy pitches from five innovative solution providers that have developed next-generation products that are changing the face of payments and driving the industry forward.
Five leading companies will present their faster payments solutions on Monday, April 30. Presenting companies are ACI Universal Payments, The Clearing House, FIS, Fiserv and IBM.
Leading up to PAYMENTS, I will provide a sneak peek at several of the presenters and their faster payments solutions. This week FIS answers a few questions about its FIS Real-Time Ecosystem.
---
Your faster payments solution is said to be an innovation that will drive the industry forward. If you had to describe your solution as a car, what car would it be? Why?
The Amphicar! Our FIS Real Time solution set was built with increased functionality and flexibility at its core, and just like the Amphicar wasn't limited to a specific "rail." Our adaptability allows us to deliver powerful performance in any environment. FIS is driven to offer innovations that enable money movement through all networks and connections, for all market segments and financial institutions of any size.
How does your solution change the face of payments?
The FIS Real Time solution set drives to the heart of real-time processing. This is the first fundamental payments change in more than 40 years with a new payments rail. Laying down the foundation of faster payments enables innovation to occur throughout the payments value chain. FIS is moving money faster across multiple use cases and scenarios.
If you could eavesdrop on what attendees were saying about your session at the conclusion, what would you hope to hear?
We'd love to hear attendees saying that they have a clear understanding of how FIS enables financial institutions and end clients to realize the power of faster money movement. Additionally, our hope would be that they were energized and excited about all of the possibilities the FIS Real Time Ecosystem makes possible for them through our wide-ranging solution offerings.
Faster payments solutions are the industry's focus today. If you had to take a guess, what do you think is next for the industry?
What's next for the industry will undoubtedly be the widespread changes in operations that will result from the explosion of faster payments. While the industry is currently focused on developing the business case for faster payments and how to get started, that will eventually give way to a market where faster payments are the norm, as corporations and consumers gradually grow to accept the real-time standard. This will lead to major shifts in the way the industry approaches processing payments, causing shifts such as real-time cash positions, changes in A/R and A/P applications, and more.
---
Join me at PAYMENTS 2018 in San Diego for the Faster Payments Center Stage to hear about the hottest advancements in faster payments solutions. Until then, check this space next week to read about another one of our presenters and its solution.
Simon Hobbs spent 18 years as an anchor at CNBC, most recently co-hosting 'Squawk on the Street' from the New York Stock Exchange.