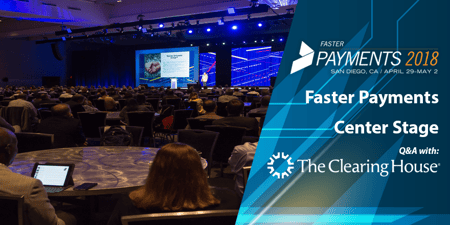 PAYMENTS 2018 is less than two weeks away, and the five innovative solutions providers participating in this year's Faster Payments Center Stage are ready to showcase their fast, high-energy pitches for their next-generation products that are changing the face of payments and driving the industry forward.
Read more for a sneak peek at RTP, The Clearing House's new real-time payments system. The Clearing House will present its
faster payments solution in San Diego on Monday, April 30, along with ACI Universal Payments, FIS, Fiserv and IBM.
Previously in this space, FIS and IBM answered a few questions about their solutions. This week The Clearing House takes center stage.
---
Your faster payments solution is said to be an innovation that will drive the industry forward. If you had to describe your solution as a car, what car would it be? Why?
We don't see our solution as a car, but rather the superhighway that all kinds of cars can ride on, from sleek Ferraris powering payments almost instantaneously, to tractor-trailers carrying large shipments of payment information of all types, to self-driving cars with capabilities we are just beginning to imagine that represent the future of payments and e-commerce.
How does your solution change the face of payments?
RTP is the first new payments rail in more than 40 years. RTP was developed with extensive industry input from financial institutions and related organizations, which resulted in a brand new system that follows principles such as equal access and simple, transparent pricing.
It's the first new payment system since the birth of the internet. Banks of all sizes can use it as a platform for their innovation to address the way people live and work today. Traditional payment networks are focused on the payment, while most other details of the transaction are treated as "supplemental information." RTP has an extensible information framework that supports all kinds of electronic transactions that flow back and forth across a secure, bank-owned and -operated network.
If you could eavesdrop on what attendees were saying about your session at the conclusion, what would you hope to hear?
"Wow, RTP is gaining traction and I need to start thinking about how my financial institution will get on board."
"That new app I have been working on really needs some of the capabilities that The Clearing House has designed into RTP."
"I'm calling my bank as soon as I get back from PAYMENTS 2018 and ask them when they will be adding this new feature to my Treasury Management solution."
Faster payments solutions are the industry's focus today. If you had to take a guess, what do you think is next for the industry?
Fast payments are great, but smart payments are better. Request for Payment will revolutionize bill and invoice payments. Using flexible tools for sending and receiving payment-related data, providers will build products that automate complex financial services. APIs will enable customer business processes to integrate directly with their banks. RTP is designed to support all of these and more.
Steve Ledford, SVP, Product & Strategy, will represent The Clearing House during the Faster Payments Center Stage on Monday, April 30.
---
Join me at PAYMENTS 2018 to hear about the hottest advancements in faster payments solutions. Until then, check this space next week to read about another one of our presenters and its solution.
Also, don't forget to vote now for the winner of the NACHA Excellence in Payments Award!
Simon Hobbs spent 18 years as the co-anchor of CNBC's "Squawk on the Street" and the Europe Market Close.