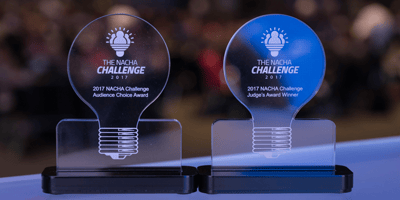 NACHA has announced the finalists for the 2018 Payments Awards, which include the NACHA Excellence in Payments Award and the NACHA Challenge Award. For more than 20 years, the awards have celebrated proven accomplishment and leadership in the payments industry, as well as recognized and rewarded the payments innovations defining the future.
While voting for the Excellence in Payments Award is going on now, you have to meet us in San Diego for PAYMENTS 2018, the definitive destination for faster payments education, to vote for the NACHA Challenge winner. Register to attend here.
The NACHA Challenge Award rewards a team or an individual for developing new ways to enable ACH usage for person-to-person, business-to-business, account-to-account, or other payments without users having to supply their bank routing number or account information. Finalists are competing to win up to $25,000 in prize money.
Winners will be announced on Tuesday, May 1, during the NACHA Payments Awards Luncheon, which is sponsored by TD Bank and featuring keynote Amy Trask.
Here are the finalists:
Team Alacriti for its Tokenized DDA & Transaction Registry Using Blockchain Technology

The Tokenized DDA & Transaction Registry is an interface allowing customers to create demand deposit account (DDA) tokens through their banking websites or mobile apps, and use them to make or receive ACH payments without disclosing the underlying account details. The DDA token system would be implemented as a shared network built using blockchain technology.
Team IBM for its Blockchain-Powered Real-Time Payments Participant Registry

The Real-Time Payments Participant Registry would allow customers to own their tokens no matter where they decide to bank. An entity would create a record on the distributed ledger linking its token to its bank account (routing number and account number). But only the entity and its banks can see the account details, while only the token and routing number are public.
Team Redwood for its RCU Pay

RCU Pay is a mobile-first solution that allows customers to send money to anyone in the U.S. via email or text. The solution is built on top of the existing ACH infrastructure, and includes a proprietary methodology for securely encrypting the payment message. Recipients then can route the funds via ACH to any U.S.-based financial institution.
Team Stockman for its Simple Account Access Code

The Simple Account Access Code contains all the information account holders need to identify their account at their financial institution in a format they can remember and share with vendors, bill payment companies, and other consumers. The access code would include security features such as two-step authentication and biometrics, and emerging technologies such as real-time transfers and mobile payments for simplicity and convenience.
NACHA Challenge finalists will present their proposals on Monday, April 30, at PAYMENTS 2018. All conference attendees are welcome to attend. Voting will take place on site via the NACHA PAYMENTS 2018 Mobile App, sponsored by Transactis.
Don't forget: Online voting for the winner of the NACHA Excellence in Payments Award is now open!