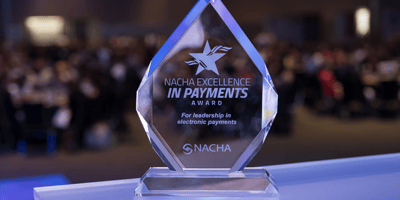 Online voting for the winner of the NACHA Excellence in Payments Award is now open!
This week NACHA announced the finalists for the 2018 Payments Awards. For more than 20 years, the awards have celebrated proven accomplishment and leadership in the payments industry, as well as recognized and rewarded the payments innovations defining the future.
The Payments Awards, for which NACHA received more than three dozen proposals for consideration from industry participants, include the NACHA Excellence in Payments Award and the NACHA Challenge Award.
The NACHA Excellence in Payments Award
The NACHA Excellence in Payments Award honors an individual or organization that has shown superior leadership and accomplishment in the development, implementation or advancement of domestic or international electronic payments.
And the finalists are...

All industry participants will have an opportunity to help determine the winner for this award through online voting leading up to PAYMENTS and in person after short presentations by the nominees in the Newsmaker Event Center on Monday, April 30.
Winners will be announced on Tuesday, May 1, during the NACHA Payments Awards Luncheon, which is sponsored by TD Bank, during PAYMENTS 2018.The conference, which is the definitive destination for faster payments education, will take place April 29-May 2 in San Diego, California. Register to attend here.
And check this space next week for more information about the finalists for the NACHA Challenge Award, who are competing to win up to $25,000 in prize money, and how you can vote in that competition!