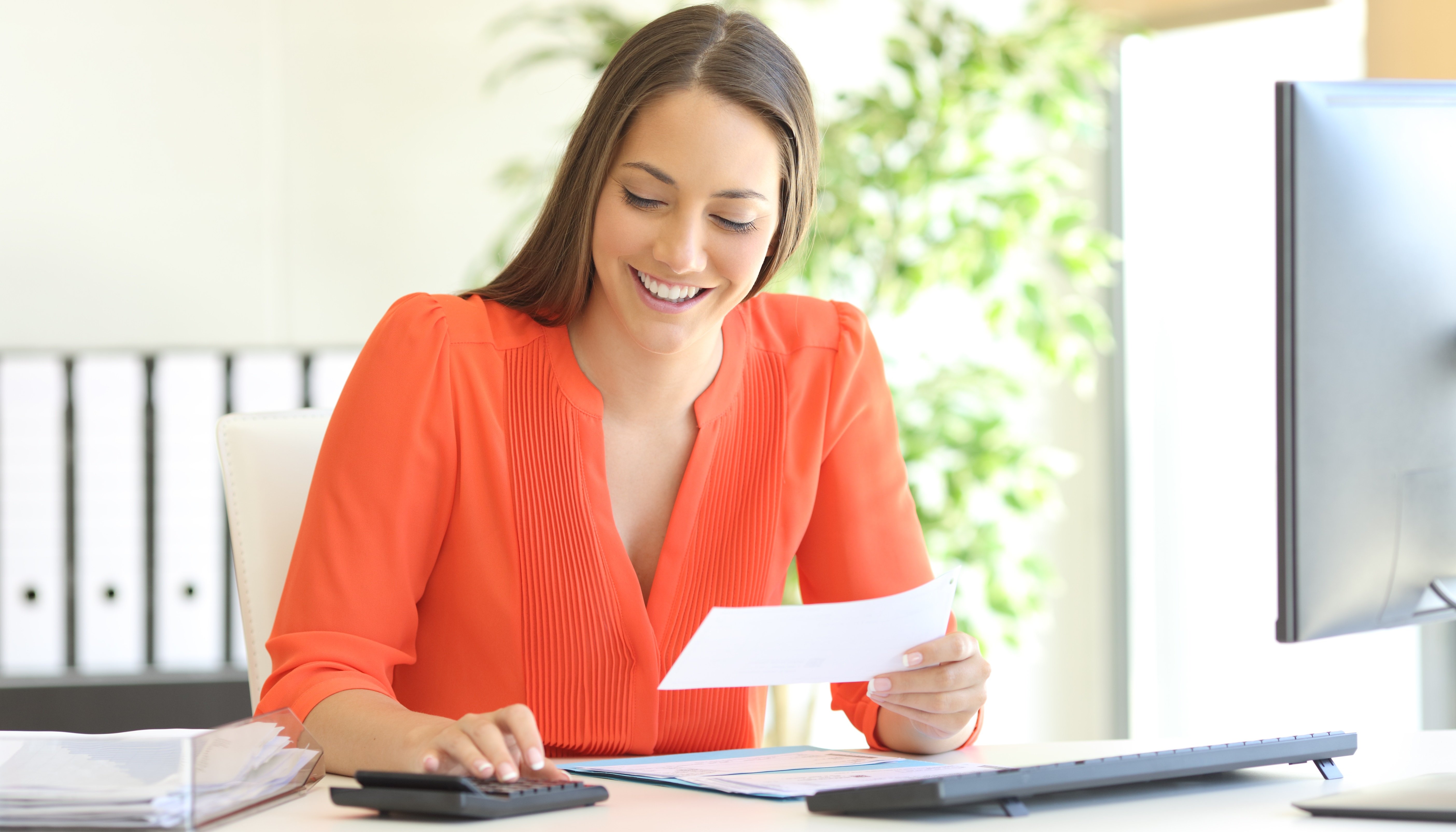 What choices do consumers make when paying their bills? Are there certain industries that are more likely to receive bill payments via ACH? Does ACH usage increase or decrease depending on the amount of each bill payment? And does the frequency with which customers pay their bills influence the likelihood of choosing ACH as a funding source?
At Alacriti, we ponder questions like these all the time. Our electronic bill presentment and payment (EBPP) solution, Orbipay® EBPP, provides a rich source of transaction data from which we can glean insight about consumers' bill payment preferences and behavior. We periodically take a step back to examine and analyze patterns in this data that provide insight into how customers use different payment methods (ACH, Credit Cards, Debit Cards), payment channels (Web Portal, Agent, IVR, etc.), and payment options (One Time, Recurring, AutoPay, etc.) when making bill payments.
After an extensive analysis of Orbipay EBPP's transaction data from 2017, there were some clear patterns that emerged related to bill payments made via ACH. Here are five key trends we observed over the course of last year.
Trend #1: ACH was the most popular payment method used on Orbipay EBPP in 2017
In 2017, ACH was the payment method chosen for 51% of all bill payment transactions made via Orbipay EBPP. However, the value of these ACH transactions represented 89% of total value across all transactions recorded for the year. These numbers show that customers had a clear preference for ACH-funded bill payments in 2017.

Trend #2: As the dollar amount of bill payments increased, so did the use of ACH
For bill payments with lower dollar amounts (up to $20), ACH was only chosen as a payment method approximately 30% of the time. However, once those payments crossed the threshold of $100, ACH usage shot up. More than half (53%) of transactions between $100 and $200 were paid using ACH. As transaction size increased, ACH was used almost exclusively, especially for amounts that exceeded $2,000.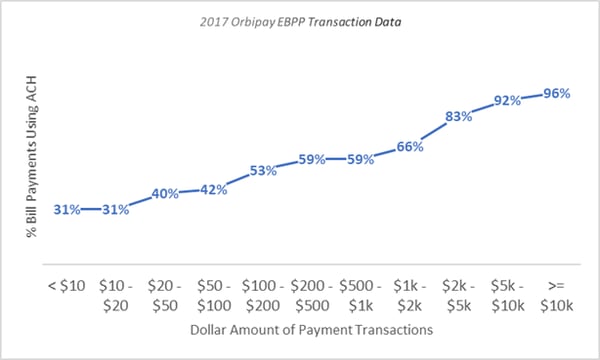 Trend #3: ACH payments were most popular among users who logged in to make bill payments
Our analysis examined four major channels by which Orbipay EBPP users can make payments. They include phone-based Interactive Voice Response (IVR), Simple Web (one-time web payments that don't require a login), Agent (payments assisted by an agent), and Web Portal (web payments that require logging in with a User ID and Password).
Almost three-quarters of payments made via the Web Portal used ACH as a funding source. This was likely because these payments were made via a secure login that allowed users to store bank account information for future, ongoing ACH payments.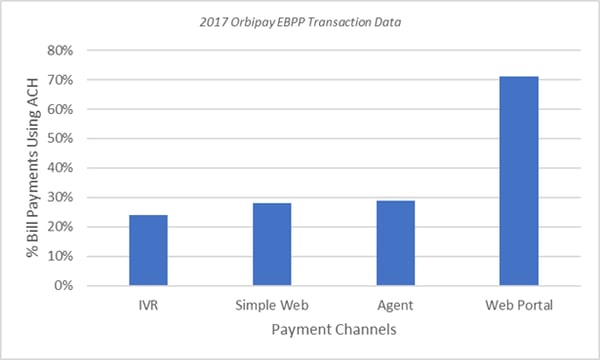 Trend #4: AutoPay and Recurring payments were most often made using ACH as a funding source
Orbipay EBPP offers customers a variety of payment options including AutoPay (automatic payments with due dates and payment amounts set by the client), Recurring (due dates and payment amounts chosen by the customer within the client's parameters), One Time (single payments that are not part of an ongoing series), Invoice (customers can make payments toward specific invoices), and Payment Plan (allows customers to pay in installments using parameters set by the client).
In 2017, ACH was the dominant funding method for Recurring (67%) and AutoPay (71%) transactions. This echoes our previous observation that customers were most likely saving their bank account information and using it for ongoing, repeating payments over the course of the year.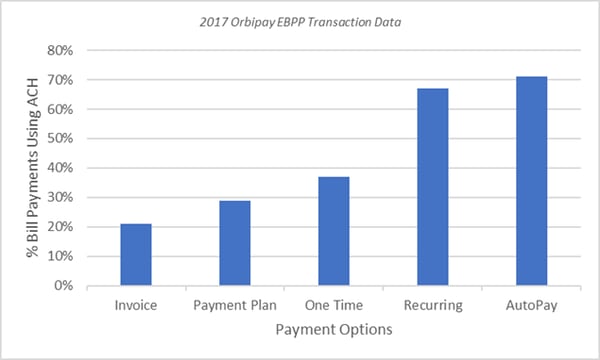 Trend #5: ACH was used for more than half of the payments made in the Government, Utilities, and Insurance industries
Our 2017 analysis shows that ACH usage varied depending on the underlying industry issuing the bills. However, ACH was used more than half of the time for Government, Utilities, and Insurance bill payments. This may be due to the ongoing nature of these repeating payments and the ease of paying them directly from bank accounts. In addition, payments made to our Government clients recorded one of the highest average payment amounts at over $5,000 per transaction.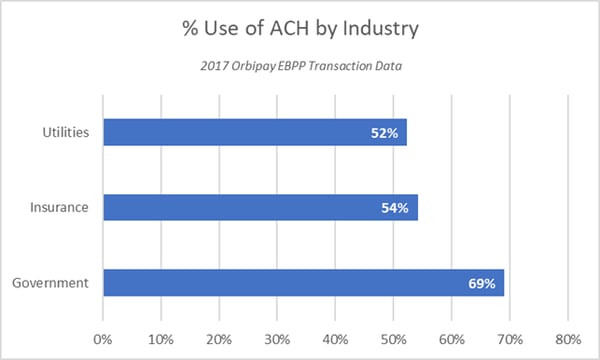 Looking Ahead
We're already analyzing our 2018 transactions to see if these ACH trends continue. As of today, we predict that many of these trends will continue or accelerate over the course of the year. However, we also predict some sizable shifts among ACH usage by industry. Visit our blog for the updated analysis, which will be published in Q1 2019.
Our Research Methodology
We analyzed our full set of Orbipay EBPP transaction data from 2017 to identify usage trends and payment preferences. Analysis was performed in-house and data sources include Orbipay EBPP customer and transactional data (we used queries to extract the required data and performed analysis in AWS QuickSight), Orbipay EBPP Reports, and Google Analytics including Google Data Studio.
About Alacriti
Alacriti is NACHA's Preferred Partner for Electronic Bill Presentment and Payments (EBPP). Alacriti's EBPP solution, Orbipay EBPP, is a flexible and secure cloud-based solution designed for businesses of all sizes. It gives customers the ability to easily view bills and make payments via ACH and other payment methods, while also providing businesses greater transparency into their customers' payment preferences and behavior.